Talk to Chef Mudana and you realise that cooking is not just a passion for him, it's his life and his love. He recalls being a young boy and watching his grandfather cooking and thinking that he wanted to learn everything about food. And so, he has made it his life mission to perfect every recipe he learns and creates, and nothing makes him happier than seeing people enjoying his food.

The My Sanur team decided we needed to truly experience his cooking class before we could write about it…plus we just like eating really good food!


Many cooking classes take place in hotel restaurants or colleges, but Chef Mudana's class is as authentic as it gets. You arrive at the family compound and are greeted by the friendly yips of the Bali dogs who happily trot beside you to the enormous fishponds that mark the entrance of the 'kitchen classroom'. You walk over a small bridge through curtains and into the traditional outdoor Balinese kitchen which aside from having all the mod cons a kitchen needs, also has the traditional stove and Balinese cooking pots, bamboo, banana leaves and utensils.

The most important part of the class is participation, this is not a class where the chef does everything, and you just sit and listen. The cooking class is interactive with everyone being encouraged to try the chopping, mixing, blending, crushing, and stirring; and it really is the best way to learn. Balinese food is a balance of sweet, sour, salty and bitter, with a good dollop of spiciness!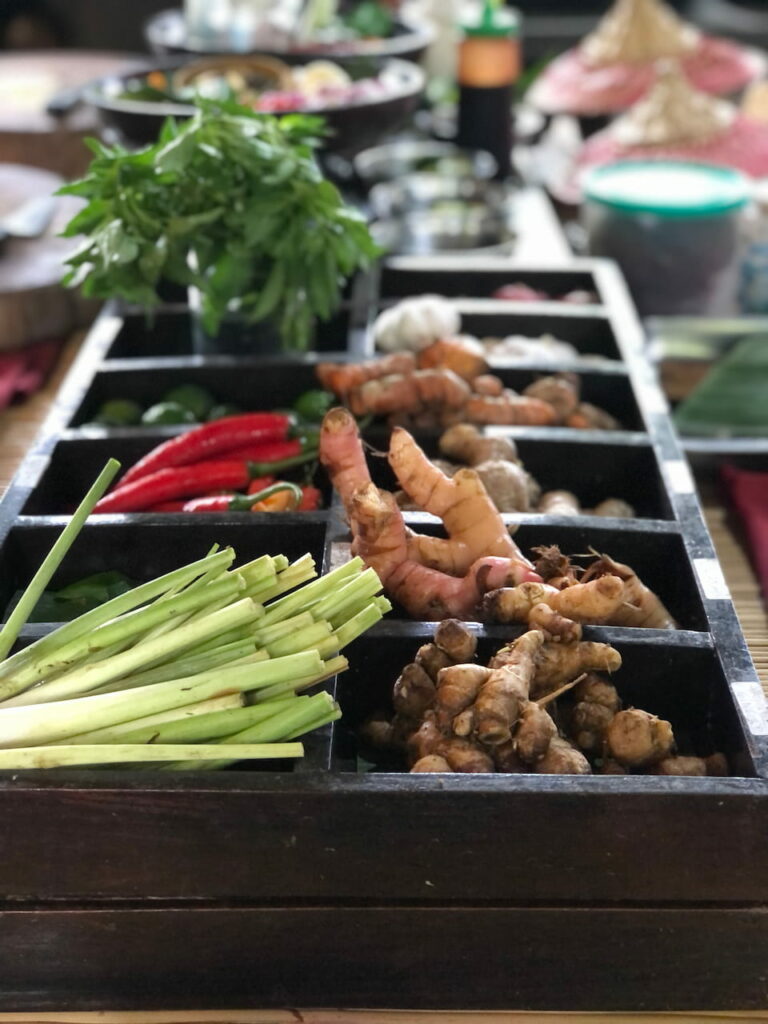 Learning about each herb and ingredient is as much about cooking as it is about the history of the spice islands, and authent ic Balinese recipes have stayed unchanged despite influences from other cultures. Ayam Betutu is a famous and popular Balinese dish and while each area in Bali may have slight variations, the basic recipe stays the same.

Something that we learnt in the class is that wherever possible, every part of an ingredient is used, nothing is wasted, a nd it all serves a purpose. Coconut husks are used in the fireplace for cooking and creating a specific smokey flavour, coconut milk and water used in curries, the coconut flesh used in recipes or dried or desiccated. Speaking of desiccated, you cannot leave Chef Mudana's without
making and trying the dadar gulung which is a Balinese crepe filled with sweetened desiccated coconut.
The crepes are light and thin and usually green (coloured by using pandan leaves) or pink (coloured by using dragon fruit).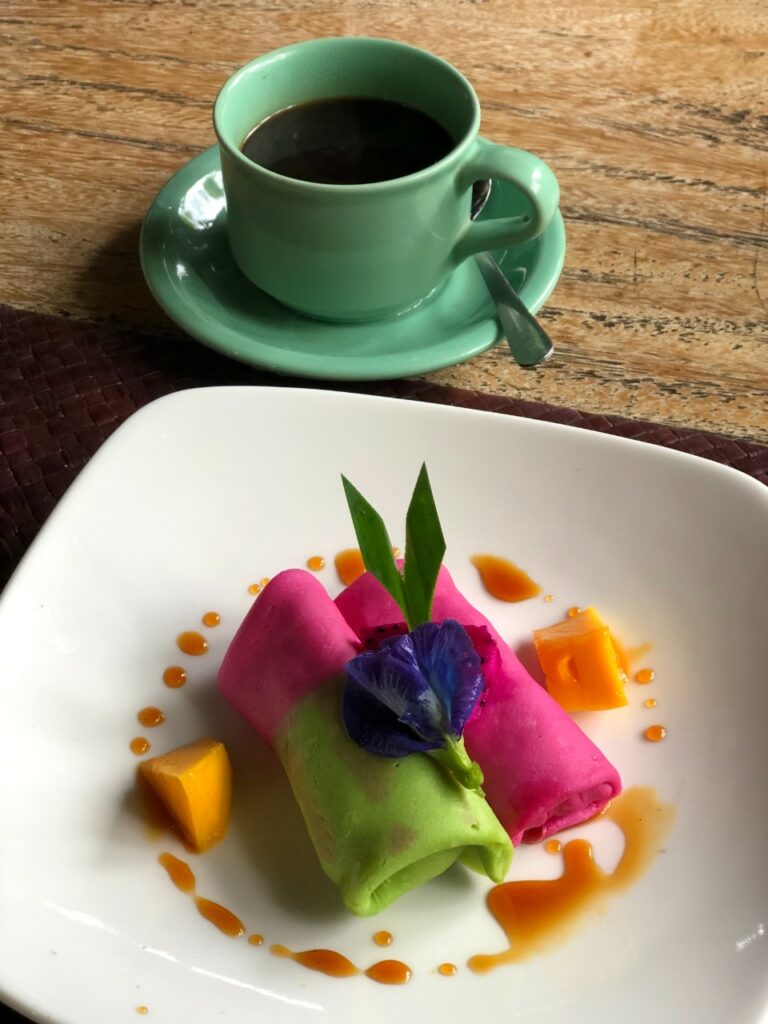 Chef Mudana and his team make the classes fun and it's fascinating how in a 2-hour class, everything comes together seamlessly and before you know it, you are sitting down to enjoy a feast of the senses that you prepared yourself – with some very qualified expert assistance!

This cooking class has been number one on Trip Advisor year after year and it's easy to see why; the professionalism is as evident as the love of good food, and you really can't leave Bali without booking in for a class.

** Just a tip: Chef Mudana and his team get booked months in advance so it's wise to book your class as soon as you book your flights!

Bookings: www.cookingclasssanur.com OR IG @chefmudana