Living in Bali means being surrounded by beautiful art, paintings, statues and furniture. So when I finally found my dream home (moving blog out soon), I couldn't wait to invest in some of the stunning pieces created by the local craftspeople. And this was how I met Maggie and Mac from Fuzen Décor Bali. Well actually I walk past their shop every day and had been looking at their collection so naturally I had to go in when the time came to furnish my house.
Maggie and Mac have been in the furniture business, and importing and exporting, for many years so the experience they have, and their knowledge, is invaluable. What started as a shopping visit became more as I listened to their stories about life in Java, working with local artisans and understanding the different types of timber used and the techniques involved in working with, protecting and enhancing the pieces.
Recently I was fortunate enough to go on a road trip with Maggie, visiting all her favourite sourcing spots and meeting the talented people she works with. The one thing I would say is, when you visit the furniture places in Bali, get off the beaten track and don't just stay in the 'shops'. Head to where the work is actually being done, talk to the artisans as they work, watch them carve and create masterpieces, and learn more about the process. It has given me a different perspective on the art and a higher appreciation for the work that goes into each piece.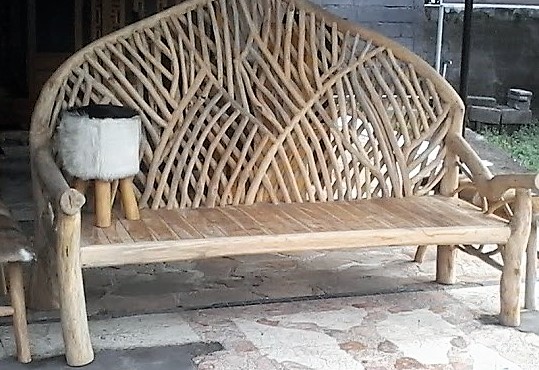 Here's the thing, furniture that is identical every time, is not made by hand. It's just not possible. It will be machine made, and chances are not from Indonesia. Buying furniture made by hand in Indonesia, means each piece will have its own personality, its own shapes and slightly different feel. In my opinion, this is exactly how it should be.
The other thing to watch for is the type of wood that is used. Maggie's expert eye is able to spot certified or legal wood versus wood that should not be used at all. Timber can be recycled, for example boat wood, or it can be harvested from certified plantations. Illegal wood is often a different thickness and has come from illegal tree felling. If you live in Indonesia or Bali, you can buy both types of wood furniture if you can't tell the difference. However when furniture leaves the country, if it doesn't have svlk certification, then there's an issue. Take an expert with you, have them source products for you, and ask them to assist with the export – it could save you heartache and wasted dollars!
I love the idea of old and recycled timber so Maggie sourced an old door and panels for me and turned it into a table. The craftsmanship that goes into these carvings is all done by hand and once you go out the back of shops and see people working the timber by hand, you'll appreciate the work and years of training that goes into each piece of furniture.
Maggie and Mac design, source and assist local businesses in selling their pieces. I was with her while she was sourcing pieces for her clients, and trust me, it's not just a matter of wandering around and buying something. Now that I have seen the process and the things to look for in a good piece, I won't be buying timber furniture without Maggie's experienced eye – she wasn't aware of this fact until just now….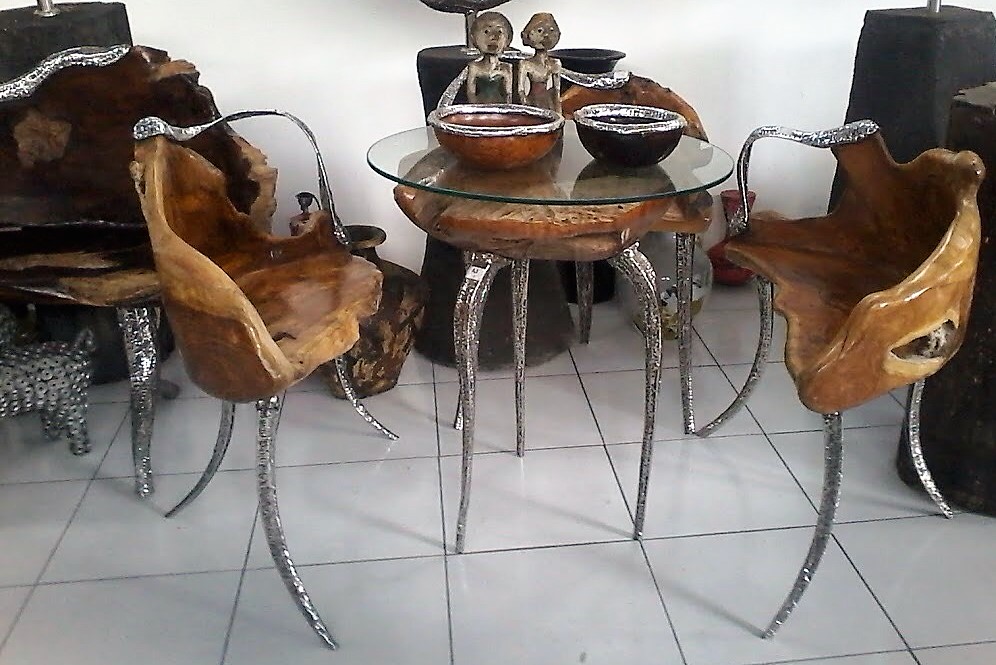 In the case of this blog, I think the photos tell the story better – I can't explain to you what it was like seeing these men carving and creating by hand; watching a beautiful piece suddenly 'appearing' out of what looked like just a plank of wood; and 'discovering' very old treasures.
Fuzen Décor Bali has a store on the bypass in Sanur and they have a website. They export to clients all over the world and are happy to help with any furniture decisions, styles or designs you want. Clearly I am biased, no apologies there – Maggie and Mac are fabulous at what they do, love working with the talented local craftspeople and they are just really nice people. But don't take my word for it, go on a furniture and craft road trip the next time you are in Indonesia and please get in touch with Maggie and Mac – tell them The Travellist says hi… and when's our next road trip?! Fuzen Décor Bali https://www.facebook.com/Fuzendecorbali/