Galungan and Kuningan are incredibly special days on the Hindu calendar and in Bali. The Balinese calendar is called Pawukan and it's 210 days long. Galungan is easily my favourite Hindu celebration, I love the meaning and the colours and how it unites a whole country. I also love the food. More on that later.
Galungan always falls on a Wednesday and that's to do with the moons, the new moon. The preparation for Galungan starts days beforehand. Morning trips to the markets for fruit and flowers to decorate the penjor, making hundreds of offerings (Made who works where I live on Lembongan, is making just over 500 offerings in the next two weeks), planning what food will be cooked and what day all the chopping and mixing and grilling starts. In a way it's a bit like Christmas – lots of decorations and food and a day to be spent with family and friends. But that's where the similarities end.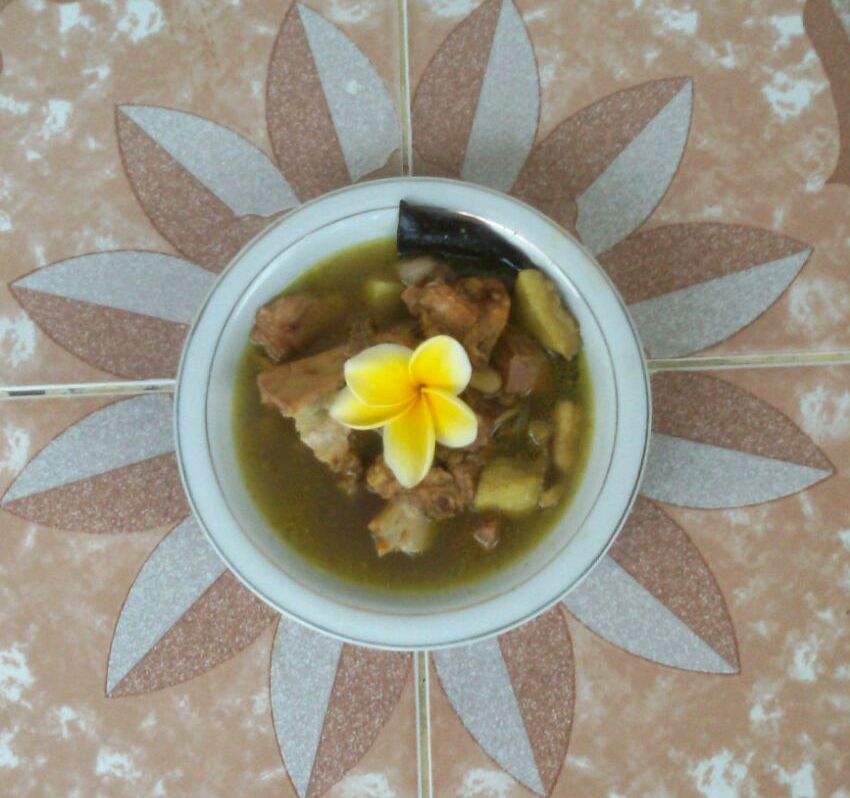 Galungan is the day where the Hindu's celebrate their deceased family. They welcome their spirits to the earth and that's why there are offerings and decorations to show them the way. Ten days later falls Kuningan, the day in which they farewell the spirits and send them onto the heavens. I love the idea that for ten days you can be with the spirits of family members you love and miss, and celebrate them and welcome them home, then say a peaceful and highly decorative goodbye. What a fabulous way to leave your family and your home and move onto the heavens!
During this ten day celebration, some people work but you will find if you are in Bali that places like banks and offices close. So a word of warning, check your dates when you book a trip to Bali just in case your major travel days fall on Galungan or Kuningan ( or even Nyepi – the day of silence). But if you are visiting Bali around those dates, I encourage you to join in and take in all the ceremony and colour. It's a magical experience that will be a highlight of your time in Bali. I was on Lembongan for Galungan last time and I'm glad I'm here again for the celebration this time. There is something uplifting and even spiritual about small villages decorating their homes, streets and businesses. Everyone in ceremonial dress. Kids not at school and playing in the street.
Galungan and Kuningan are really a celebration of good over evil, dharma over adharma. Which explains a bit about the 'decorations'; and in talking to a few Hindu friends, the decorations can have a different meaning for different people depending upon your own beliefs and even where you were brought up. The penjor, my absolute favourite Hindu 'decoration', are a great example of this. So one friend I spoke to said the penjor are about showing the way to the spirits and showing respect. The penjor bow at the top as a sign of being humble and the strong part of the penjor is hidden below so as not to show off. And at night, they place a light or a candle on the penjor so the spirits can see their way home. Another friend of mine said the penjor bow because they represent the mountains where a lot of spirits come from and return to. These photos are all taken from around Nusa Lembongan, and the various villages. When you look at each penjor and offering, remember each one is designed and made by hand the traditional way out of palm leaves, bamboo, flowers, fruit and ceremonial fabric. It's hard work so thankfully the penjor stay up for a month so they can be appreciated for more than just a few days. And the Galungan and Kuningan celebration also signifies a break from 'human' ceremonies, such as marriages and teeth filing, for one month and seven days. Ceremonies in the family temple for spirits is still allowed though.
Now the food…it's no secret at all that I am a foodie. Part of the reason I moved to Bali in the first place was for the food. But since being here I've discovered while I love the food, I also love the process and preparation behind it. Galungan is on Wednesday but on the day before most households here will get all the food they need for the celebration and start chopping and slicing and grilling so it's all ready for the family on Galungan. Dishes like sate Galungan , chicken bumbu, balung soup, sosis and tum babi. Last Galungan I was lucky enough to visit a friend and his family while they prepared the food. I left with a better understanding of what the day means to the family and how they all work together to prepare the offerings and food, and I left with a full stomach!