You may have noticed a distinct lack of blogs coming from our office lately. Partly that's because we travel a lot in normal times to write our stories and we are not doing any travel right now. But partly it's because it would appear our writing mojo went out the window when the pandemic shut down the island.
So, to fire up the writing and travelling mojo again, we're going on a virtual tour around Bali – a written reminder of how amazing Bali actually is, even during these quiet times. Pack your bags, virtually, make yourself a cocktail (even put a little paper umbrella in an orange juice) and sit next to a palm tree, or whatever potted plant you have in the house or garden. Time to take a road-trip around Bali!!
Our first virtual road-trip is actually a boat-trip to Nusa Lembongan. I try to tell people that Lembongan is to Bali what Rottnest is to Fremantle…except really the only things they have in common are the 30 minute boat trip, the fact they are a similar size, and they are both gorgeous islands surrounded by an incredible marine life.
Whether you come in at Jungut Batu or Mushroom Bay, the first thing you will notice is the colour and clarity of the water below you – you can see the stunning corals and marine life as your boat slows down and glides through the turquoise water to the shore. Every boat trip, without fail, you can hear everyone on-board audibly breathe out and sigh as the boat approaches the island.
Right now, Lembongan is quiet and if you are in Indonesia and can get to Lembongan, you might want to ring ahead to make sure your favourite spots are actually open. Many are only open on certain days or for limited hours. The other thing you could do is hire a buggy and create your own 'crawl' around the island – stopping at every place that is open for a coffee, snacks or beer. In normal times, this just wouldn't be possible as the island is teeming with visitors so if you are here now, find some enjoyment in the quiet and help out as many local businesses as you can.
There is an awesome community market on Sundays at The Coconut Hut Lembongan and many of the local businesses have turned their former shops or warungs into markets. Lembongan was completely shut off from mainland Bali when the pandemic first started, and many tourists had to leave immediately. This was devastating to so many, if not all of the businesses on the island, so leave nice tips for staff and if you can, donate to the great community causes on the island.
I've seen so many news reports about the seaweed farming and it is back-breaking work for in reality, truly little money. The resilience of the island families to once again embrace the industry that was introduced to Lembongan in the 80's, demonstrates their tenacity to find a way to keep going until the pandemic is over and the borders open.
I'm not a diver, much to the disappointment of my friend Kim (Scuba Center Asia) but I'm hearing that now is an amazing time to dive; less boats and people in the water, means that you have even more of the spectacular underwater view to yourself. If you are like our team and don't dive, grab a snorkel, and enjoy the clear water closer in to shore. Or grab a beer and just sit on the beach and watch the waves. Third option, definitely more our style.
Many of the accommodation spots are actually closed or have long term guests (those who chose to ride out the pandemic in island style), but many have amazing deals on right now – the team from The Lembongan Traveller are in the Lembongan office every day so get in touch and see what they can find for you if you don't already have your own favourite spot to stay.
How do you describe Nusa Lembongan to those who have not been here yet? It's a stunning but small tropical island, a diving and yoga mecca, with amazing food that rivals anywhere else in the world. With accommodation to suit literally any budget, from backpacker to 5 star; dine on fresh fish cooked on the beach, visit one of the many restaurants on the island or have a chef prepare meals at your villa; walk, motorbike, buggy or pushbike around – the options on Lembongan are endless and even though our borders are still closed at the time of writing this, you MUST put Nusa Lembongan and Nusa Ceningan on your travel-list of places to visit when you finally get back to Bali.
If you are in Indonesia now, and have the means to do day trips or travel, every bintang or nasi goreng you buy is helping to keep a local business in business, a family has an income. But please be safe and respectful of others by wearing a mask, and wash your hands, just like your parents taught you all those years ago. And if businesses stop you to take your temperature before you enter, be grateful because they are doing their job to try to reduce the spread of the virus that has crippled so many industries across the globe.
Our team has made so many new and wonderful friends through FB and IG since the pandemic began; people we may never normally have met, have now become people we can't wait to 'meet' for a beer on the beach as soon as the borders open. Thanks to everyone for the lovely support and well-meaning messages during this time – we can't wait for the day that we can actually talk in person.
Stay tuned for our road-trip series…. where will we be heading next??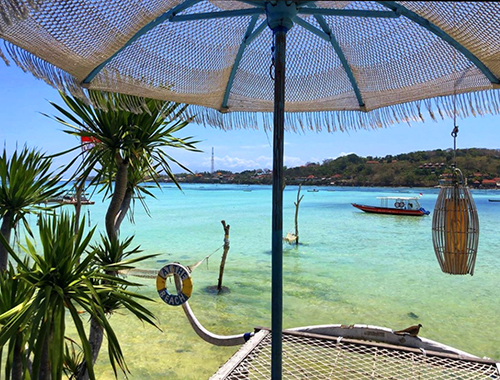 Written by The Travellist team