No sooner had we landed in Flores, we were whisked away in the courtesy car from La Cecile, checked in and then it was onto sunset drinks on the balcony. Two slurps into my cocktail, and I was declaring undying love for Flores and making somewhat hasty plans to move there. With no consideration to what I would actually do in Flores, it seemed like a perfectly plausible thing to do. You see Flores is full of people who, like me, fell in love at first glance and just made a bee-line for a new island life.
And Flores is a place where you can do that. There's a sense of adventure and even though it's hardly a new place, you do feel like an intrepid explorer going off on motorbikes, looking at bays and coves and mountains and daring to imagine what could be. In reality, having a plan might be a more practical move as Flores is still developing and if you've spent time in Bali, you could be fooled into thinking you are just coming to another island like Bali.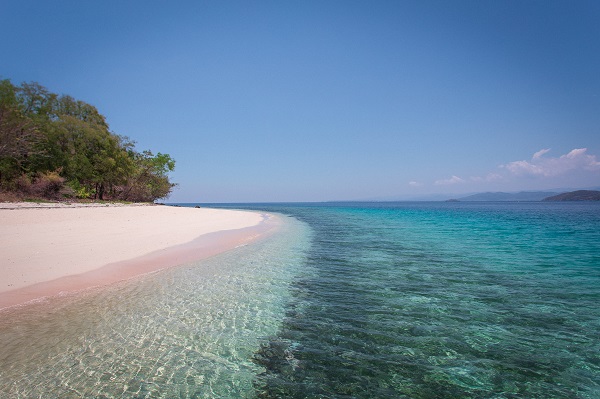 Trust me, you aren't. Flores and Bali are nothing alike, except that they do capture the hearts of many travellers. The best way I can describe Flores is 'wild west' meets Indonesia. It wouldn't be out of place to see a man in cowboy boots kick in the saloon doors of the bar on the main street, and wonderfully on our first night in Flores a man did actually come to dinner with a cowboy hat on.
You could be forgiven for thinking that the main port of Flores, Labuan Bajo, is ramshackle and run down, but upon closer inspection you'll realise it's just that development is booming at a pace that means it almost can't keep up. There are brand new footpaths but with the rubble dug up alongside, still waiting for collection. There are tin sheds making way for fabulous local and international restaurants, markets and stalls mixing with boutiques, and companies like Ayana and Plataran are building stunning properties for those who want luxury while exploring.
Walking along the main street there is a definite sense of excitement bubbling away under the new tarmac, you can just feel that something big is happening and the predictions by the Indonesian government were right – Flores is THE spot in Indonesia right now. I managed to stop gawping at sunset from the balcony of La Cecile to look at the number of boats in the harbour. Certainly more than when I was last in Flores two years ago, with a mixture of yachts, luxury phinisi, fishing boats and tour boats vying for prime position on the piers.
After talking to some lovely locals and expats, I realised anything is possible in Flores. If you want to open an Italian restaurant and supply it with your own organic produce from your farm, you can. Anyone who knows Labuan Bajo knows I'm talking about Made in Italy and the chef's incredible farms that supply his kitchen – but that's a story for another article. You can come here with plans to regenerate the reefs of Indonesia and stumble across more projects along the way. You can buy a beautiful phinisi boat and turn it into a five star floating luxury resort, which I had the pleasure of spending the weekend aboard (you must check out Voyage Mischief!) The Way Flores Makes Me Feel Blog by The Travellist.
I know I sound very starry eyed and as an expat living in Bali, I know that there are always issues to deal with. The '#cocktailsbythepool' lifestyle doesn't last long once you get stuck into work or whatever project brings you here. But as an expat who loves listening to stories of what Bali was like way back when, I feel as though being in Flores at this time means we are a part of the change, and the stories that will be told of the Flores from before.
"We live in a wonderful world that is full of beauty, charm and adventure. There is no end to the adventures that we can have if only we seek them with our eyes open." — Jawaharlal Nehru
If you are a local or expat in Flores with a story or two to tell, please get in touch. We'd love to feature you as part of our people of Flores series.