Sitting in the beautiful cafe, having a sip of coffee bean magic, while breathing in the aroma of coffee direct from the roastery next to you– is a triple stimulation you can now experience in the neighborhood.
Dimattina Roastery on Jl. Danau Poso has incorporated the café with a customer-facing roastery. The glass wall partitions create a visually appealing roasting space and leave a lasting impression on customers.
Success in creating delicious and distinctive coffee requires excellence in work and disciplines from five integral parts: the farmer, the quality assurance, the roaster, the barista, and lastly the connoisseur or customer. And, roasting is the fundamental stage in transforming the little green kernels into magical beans. This part determines the character of the coffee bean including the taste, the aroma, the flavour, and the after taste. And the roasting process also determines the period of freshness of the coffee beans.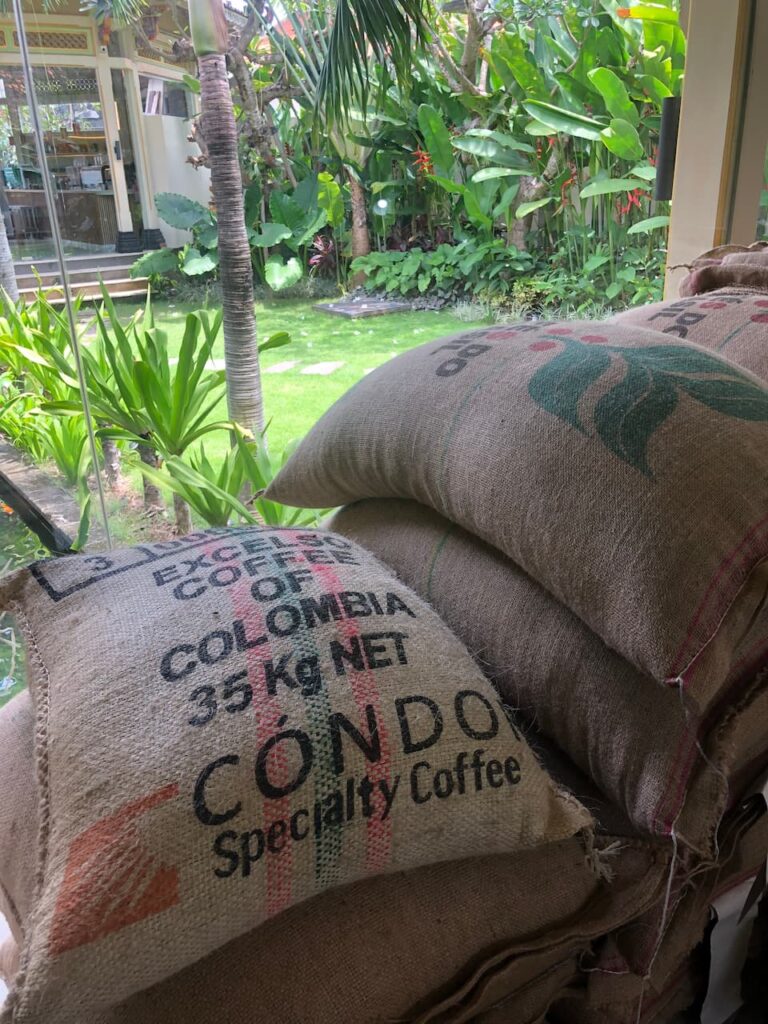 It is more than just applying heat to the beans for a certain amount of time, it takes expertise to determine precisely the desired outcome. A roaster needs to record what happened during the roasting process and what adjustment is needed to perfect the fine line between being underdeveloped and overdone. When beans reach the peak of perfection in roasting, they are quickly cooled to stop the process. The difference between perfectly roasted beans and a ruined batch is a matter of seconds. Once roasted, coffee beans should be used as quickly as possible before they gradually lose their aroma, flavour and eventually becoming flat.
Dimattina, our master roaster carefully selects, sources and roasts coffee beans. Each roasting process is done in small batches to maintain the quality roasting profiles. Dimattina selects beans from countries around the world as well as from local Bali and other regions in Indonesia. One of most interesting coffee beans available in this roastery is the Juria Peaberry from Dimattina's own plantation at
Wanagiri, Bedugul. Peaberry occurs as a result of a natural mutation, or defect, in which a single bean grows on its own inside the coffee cherry, rather than with a twin. It is collected by sorting out coffee beans very carefully. It occurs in such a rare number that this makes it special. Peaberries are estimated to make up to around 5%–10% of a harvest. Yes, they are that rare, almost like coffee jewels. Juria Peaberry coffee beans have a slightly higher amount of caffeine, and yet are still smooth to the taste.
With a delicious menu of Italian inspired pizzas, desserts and more, you won't just be going for the coffee and our recommendation is to try a new coffee every time you visit. Ask the barista for their recommendations on how to enjoy each different coffee and which tasty treat you should have with the coffee of choice!
Dimattina Roastery and Kitchen, Jl. Danau Poso No.54, Sanur
IG @dimattina_bali